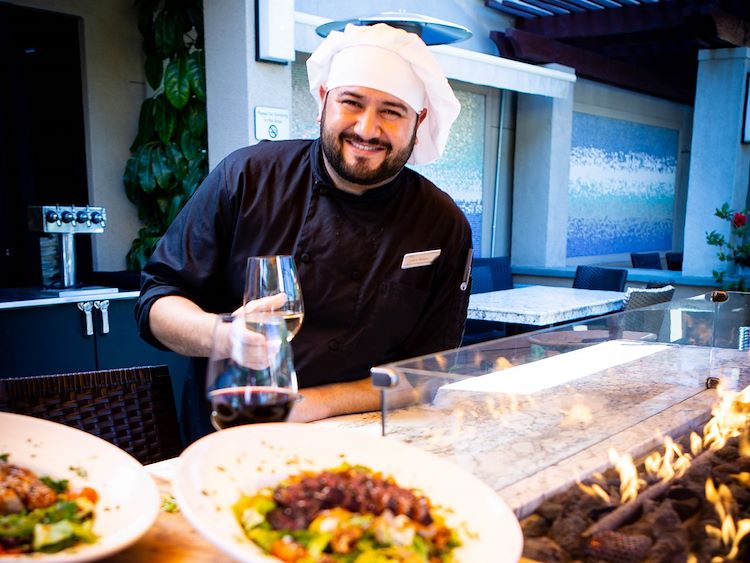 Chef Juan Zaragoza
For the past twenty years, Chef Juan Zaragoza has been cooking up creative and authentic homestyle dishes in the Bay Area. Born in Mexico, he found his culinary passion at a young age, learning to cook local foods alongside his grandmother while finding inspiration in his 10 siblings and a family full of chefs. Juan started his career as a prep cook for a hotel restaurant where he honed his skills catering large banquets. He was promoted to sous chef and worked with a number of multicultural chefs, learning about a wide range of cuisines. Since landing at the Courtyard Long Bar & Bistro, Chef Juan has gained fame within the Los Altos community for his casual, homestyle cooking. Each dish is exquisitely prepared using fresh herbs and local ingredients and our guests enjoy it all at reasonable prices. Join us at the Long Bar & Bistro and experience this delicious dining experience for yourself!
The ideal location in Palo Alto Los Altos, close to everything you'll need when traveling on business or leisure. Conveniently located near Stanford University and Hospital as well as the beautiful Menlo Park and elegant Filoli Gardens and Estate in Woodside. The hotel offers complimentary parking in their underground garage making it that much easier when casually dining at The Courtyard Long Bar and Bistro. Perfect for gathering with friends or colleagues. Guests enjoy many additional perks while staying at the hotel such as the use of our outdoor swimming pool and spa, two picturesque outdoor courtyards with multiple fire pits and our outstanding service.

Whether you live in San Jose, Santa Clara, Sunnyvale, Mountain View, or San Francisco make it a staycation by dining in at The Courtyard Long Bar & Bistro then spend a wonderful evening in our guests suites relaxing. Living so close just got easier!

Dine in with your furry companion any day of the week. We're pet friendly and enjoy seeing all our furry friends visit.